Plan your visit
Please register in advance by SCHEDULING YOUR VISIT HERE
- TUESDAY: 10am - 12:30pm and 1:30pm. - 6pm.
- WEDNESDAY, THURSDAY, FRIDAY: 1:30pm - 6pm.
- SATURDAY: 10am - 12:30pm and 2pm - 5pm.
- Closed on National Holidays, Mondays and weekends.
IMPORTANT
- Prepare the exact payment: Full price: € 6 / Half-price: € 3 per person (free for children under 12). We do not accept credit card payments.
- Bring your masks: the museum can only be visited if you are wearing a protection mask.
- "Pass Sanitaire" (Health Pass) mandatory.
SAFETY INSTRUCTIONS
- Barrier gestures to apply during your entire visit to the museum.
- Wear a mandatory mask during the visit.
- We ask you not to touch the specimens and to avoid as much as possible contact with the display cases.
- Hydro-alcoholic gel will be available at the entrance of the museum and during your visit.
GENERAL INFORMATION
Admission ticket
- General admission: 6€
- Special price: 3€ (schools, students, unemployed, retired)
- Free for all under 12.
- Payment by cash or French check only (sorry, no credit card)
Please note: with a full fare ticket (6 euros) from one of the three Mineralogy collections in Paris ( "Treasures of the Earth" at the National Museum of Natural Historyat the Jardin des Plantes, the "Collection de minéraux" at the University of Pierre and Marie Curie, and the "Mineralogy Museum" at MINES ParisTech), you get a half-price ticket in the other 2 collections (3 euros). Keep your ticket, it does not have an expiration date!
Guided tour
- Tours for 10/25 people.
- Regular 1-hour tour: 70€ + 3€ per person.
- School or student tour: 50€
Reservation is required (at least) one month in advance. Please email musee@mines-paristech.fr for information and reservation.
ACCESS
- 60 Boulevard St Michel 75006 PARIS
- By bus: 21, 27, 38, 82, 84, 89 and RER B Luxembourg Station
CONTACT
www.musee.mines-paristech.fr
Phone : +33 (0)1 40 51 91 39
SERVICES
On the first floor, there is a cafeteria where food, snacks, and drinks are available for purchase.
Our most recent publication: "Curiosités Minérales" (Mineral Oddities) is available for sale at the Museum. Like a curiosity cabinet, this book presents the most astonishing minerals of the Mineralogy Museum of MINES ParisTech. Each mineral is associated with several photos (around 400 in total) and a brief text, in French, giving historic, scientific and technical anecdotes. Text by Didier Nectoux and Jean-Michel Le Cleac'h - Photos Cyrille Benhamou - Ed. Omnisciences).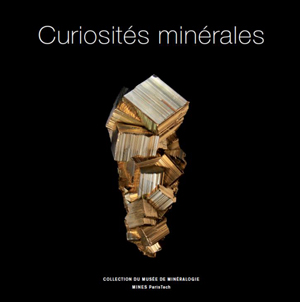 VISITOR'S GUIDE
A visitor's guide will be given to you on site. You can also download it here.
FLOOR MAP OF THE SCHOOL OF MINES
The Mineralogy Museum is located inside the School of Mines MINES ParisTech. People at the reception desk will guide you to the entrance of the Museum. Here is the floor map where you can find the cafeteria and the entrance of the museum.