Plan your visit

OPENING DAYS AND TIME
- TUESDAY: 10am - 12pm and 1:30pm - 6pm.
- WEDNESDAY, THURSDAY, FRIDAY: 1:30pm - 6pm.
- SATURDAY: 10am - 12:30pm and 2pm - 5pm
- EXCEPTIONALLY CLOSED SATURDAY NOVEMBER 25 and SATURDAY DECEMBER 16, 2023
- CLOSED FROM SATURDAY DECEMBER 23rd, 2023 UNTIL MONDAY JANUARY 1st, 2024
- Closed on National Holidays, Sundays and Mondays
- Payment at the museum, by CASH ONLY (credit card no accepted)
GENERAL INFORMATION
Admission ticket
- General admission: 6€
- Reduced price: 3€ (schools, students, unemployed, retired, disabled)
- Free for kids under 12.
- Payment by cash or French check only (sorry, NO CREDIT CARD ACCEPTED)
Please note: with a full fare ticket (6 euros) from one of the three Mineralogy collections in Paris ( "Treasures of the Earth" at the National Museum of Natural Historyat the Jardin des Plantes, the "Collection de minéraux" at the University of Pierre and Marie Curie, and the "Mineralogy Museum" at Mines Paris - PSL), you get a half-price ticket in the other 2 collections (3 euros). Keep your ticket, it does not have an expiration date!
GUIDED TOURS FOR GROUPS
- Tours for group of people already constituted
- Group size: between 10 and 25 people.
- Regular 1-hour tour: 70€ + 3€ per person.
- School or student tour: 50€
Reservation is required (at least) one month in advance. Please email musee@mines-paristech.fr for information and reservation.
WEEKLY GUIDED TOURS
During French holidays only
EXCEPTIONAL OFFER
On Wednesdays, Thursdays and Fridays at 3pm, during French holidays only.
Guided tour at the price of 6€, available in French only (includes the entrance to the museum, from 7 to 107 years old, fixed price of 6€ for all).
20 people max per group. Families and individuals can register in advance (depending on remaining available spots). The guided tour lasts about 45 minutes and can be followed by a standard visit of the museum.
The guided tour focuses on the history of the museum and its collection and on the highlights of the collection (exceptional and useful minerals, Martian and Lunar meteorites, gems from the French Crown Jewels...).

Information and registering at: musee@mines-paristech.fr mentioning the names and number of participating people. An email will be sent confirming your reservation (or mentioning if the tour is already full).
ACCESS
- Musée de Minéralogie, inside the Ecole des Mines de Paris
- 60 Boulevard St Michel 75006 PARIS
- By bus: 21, 27, 38, 84, 89 and RER B Luxembourg Station
CONTACT
www.musee.mines-paristech.fr
Phone : +33 (0)1 40 51 91 39
SERVICES
On the first floor, there is a cafeteria where food, snacks, and drinks are available for purchase.
Our most recent publication: "Musée de Minéralogie de l'Ecole des Mines" is available for sale at the Museum, along with other books related to the museum, or its collection.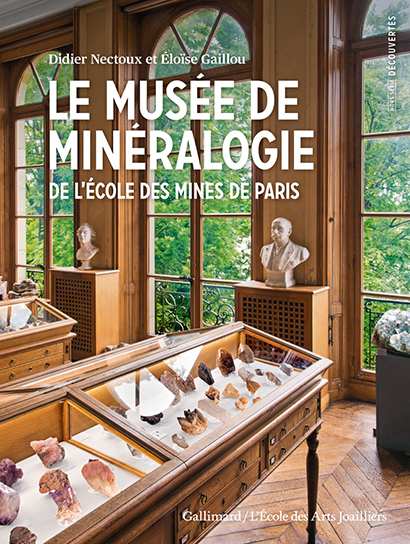 FLOOR MAP OF THE SCHOOL OF MINES
The Mineralogy Museum is located inside the School of Mines (Mines Paris - PSL). People at the reception desk will guide you to the entrance of the Museum. Here is the floor map where you can find the cafeteria and the entrance of the museum.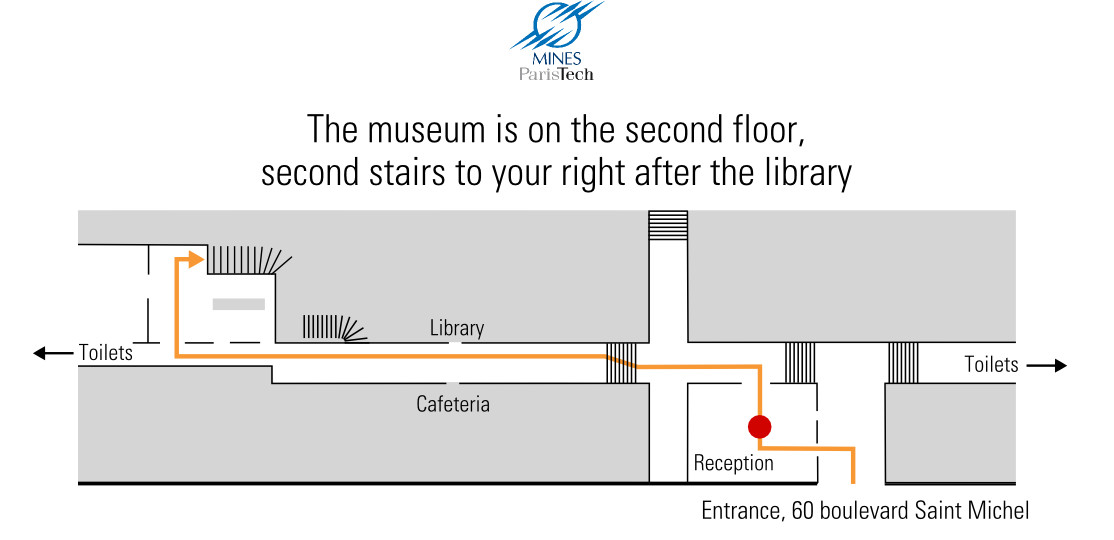 VISITOR'S GUIDE
To help your visite while on site or to learn more about a few minerals in the collection, you may download this pdf document.