The line, the idea - by L. Béatrix Spadavecchia
Drawings - from 21st June to 18th August 2017 -

L. Béatrix Spadavecchia (LBS) created her large drawings in graphite on Japanese paper specifically for the exhibition rooms of the School of Mines Mineralogy Museum. They are shown alongside a unique collection of carved graphite sculptures from Jean-Pierre Alibert in the museum's permanent collection. Graphite is both a tender and fragile material. The artist's drawings have been inspired by the works of Roger Caillois, Patrick Autréaux, and the Kindertotenlieder, or Songs on the Death of Children, by Gustav Mahler from Friedrich Rückert's poems.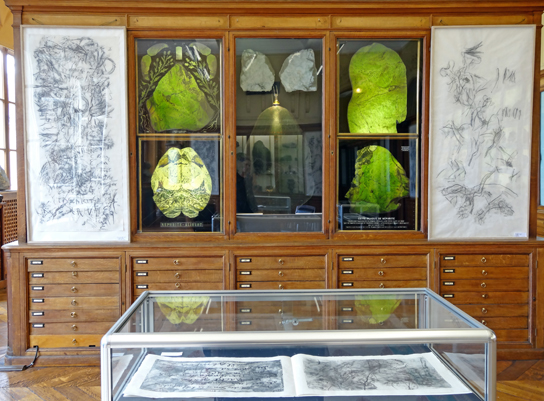 A few works by artist L. Béatrix Spadavecchia, at the Mineralogy Museum MINES ParisTech.
THE LINE, THE IDEA
Text by the artist L. Béatrix Spadavecchia - LBS -
I used various media to create these drawings on Washi or Japan paper. The graphite drawings are enhanced by the application of lavis or washes. I also used chips of Chinese calcite crystal, powders, pastels and glues.
Graphite is a soft, silky, sensual material which slides across the paper's surface and dissolves, spreads, and adheres here and there.
My deepest desire is to organise a flow of sentiments and ideas… to find an image of myself on the paper.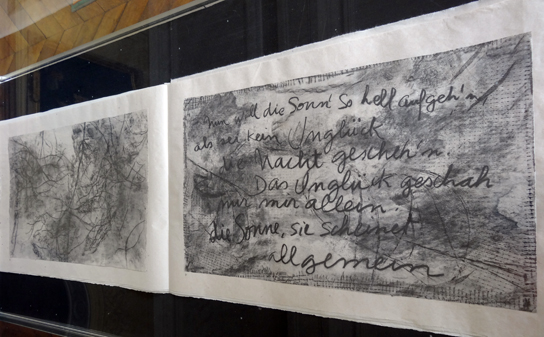 Kindertotenlieder by Rückert-Mahler, interpreted by LBS (graphite, 2013).
As a child, drawing a straight line in a school exercise book was a remarkable accomplishment – spaces became a pause for breath, a rest till, at the end, the satisfaction of a job well-done.
Lines make our imaginary world real, lines in drawings and lines in writing.
Since 1990, I started to etch poems and other texts in drypoint – with a stylus on lead or copper. I try to format texts to give them the expressivity of the spoken word whether read or chanted. I think of polyphonies, of the representation of sounds in space and time.
I've walked in Apollinaire's footsteps– borrowed the freedom of form from graffiti; from action painting, the dialogue with the unconscious; language has become the subject of the graphic works.
Lines acquire a strong, expressive force, hand colouring (aquatint) renders the backgrounds soft and nuanced.
Poetry, music and nature have always been sources of inspiration.
Roger Caillois and Patrick Autréaux treat the nature of things, and the act of writing when one is free from all attachment to the material world… Nothing remains except language, as the only wealth, and thought, as the only possession… a profound consciousness of being.
Their inheritance will be a beautified, fertile language.
Life, precarity (La vie, précarité), and Ammonites… two drawings inspired by the illustrated poetic text Chiffres, de Roger Callois, Gallimard, 1979.
The voice (La voix)... is a drawing inspired by the book La voix écrite (the written voice) written by Patrick Autréaux (Verdier 2017).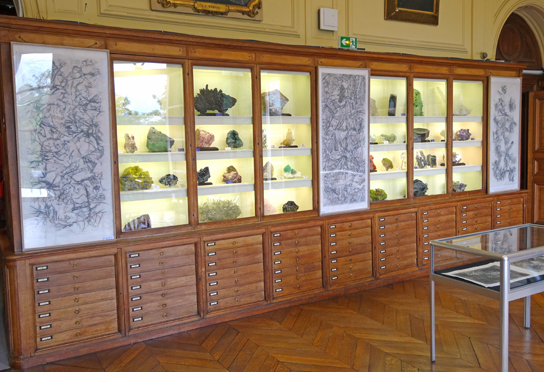 A few works by the artist Liliana Béatrix Spadavecchia, in the Mineralogy Museum
MINES ParisTech
.