METEORITES
GIFTS FROM THE SKY AND FROM MANKIND





Temporary exhibit from May 15 until June 2, 2018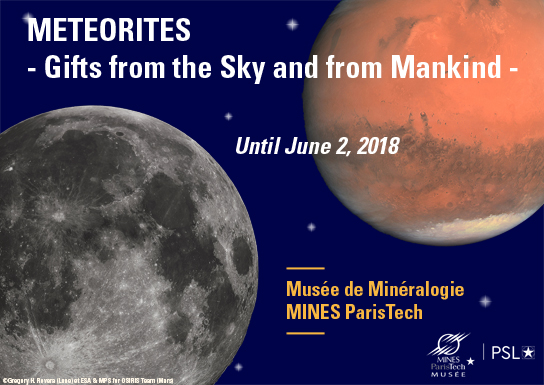 The exhibition "Meteorites: gifts from the sky and from Mankind" brings together exceptional meteorites: fragments of Lunar and Martian meteorites, pallasites, siderites, chondrites, and others. The meteorites on display also show the stories of important donors of the museum. Without such people, the present collection would not be what it is.
This first-time exhibit of Lunar and Martian meteorites was made possible thanks to recent donations by Luc Labenne, Alain Carion and Edwin Thompson, who are meteorite hunters, as well as the ABC Mines association, which supports the collection of the Mineralogy Museum MINES ParisTech. The new display makes it possible to touch pieces of Mars and the Moon, and was sponsored by the MINES ParisTech foundation, thanks to a monetary gift by Cédric Denis-Remis. The meteorite collection of our Museum mostly developed in the late nineteenth century, thanks to personalities such as Daubrée, Adam, Bertrand, Coxe, Domeyko, Brezina or Lambotin.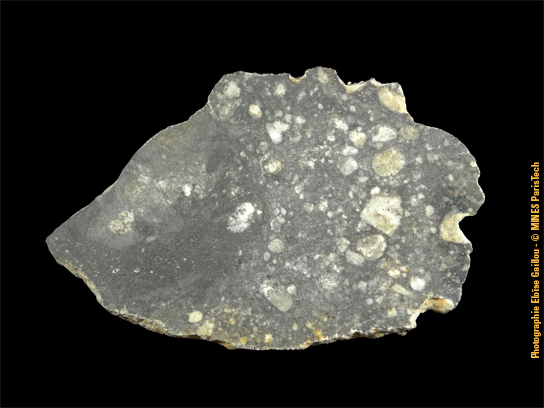 Discovered in 2017 in the Sahara desert by a nomad, the brecciatic lunar meteorite NWA 11472 was acquired by Luc Labenne (#83523; 5.5 x 3.6 x 0.2 cm, 8.98g). The slices made in this meteorite are characteristic, with clear fragments of anorthite, olivine, and pyroxene in a dark feldspathic matrix.
In the exhibit, another must-see is the 226-kilogram (500-pound) fragment of the Canyon Diablo meteorite. This meteorite was given in 1891 by Eckley Coxe, an American graduate of the School of Mines. The curator of that time, Friedel, analyzed that meteorite and showed the presence of micro-diamonds, that he reported in a publication at the French Academy of Sciences in 1892.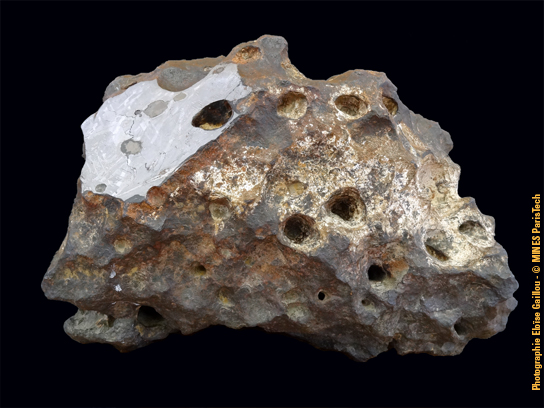 This impressive meteorite fragment of Canyon Diablo meteorite (# 10870, 48 x 37 x 35 cm, 226.80 kg) was donated by Eckley Coxe in 1891.
Through this collection of meteorites, it is not only the rarity of these samples that are valuable, but also their scientific interest in understanding the history and evolution of our solar system.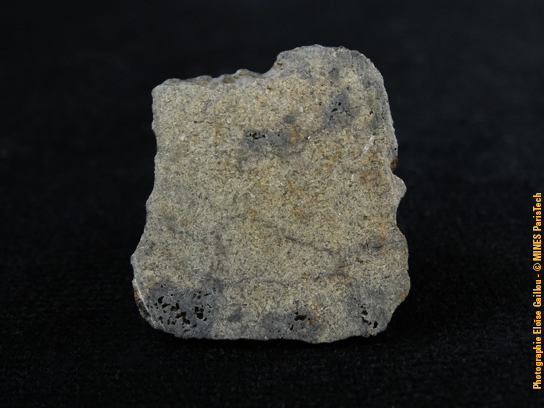 Internal part of Martian meteorite NWA 8656, given by ABC Mines (# 83439, 2.9 x 2.6 x 1.3 cm, 9.88g). This
Martian
meteorite belongs to the group of shergottites with a so-called diabasic texture. The rock consists mainly of clinopyroxene crystals and maskelynite (shocked plagioclase).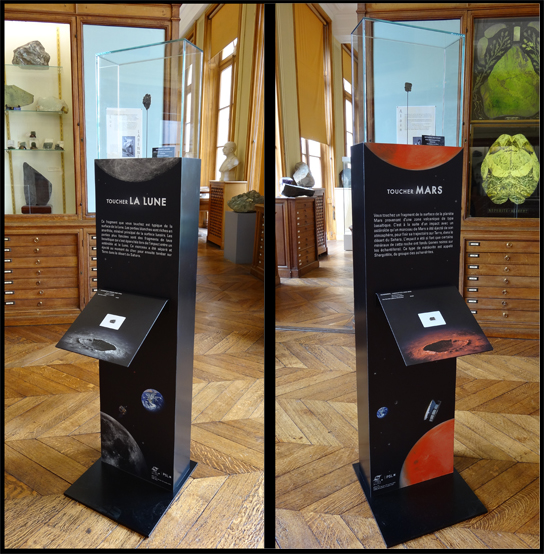 New displays with Lunar and Martian meteorites to observe and touch. The display was financed by the MINES ParisTech Fondation, thanks to a gift from Cédric Denis-Remis.