Boganium, Handwavium and others
An exhibit by artist Alan Bogana
June 5 until August 3rd, 2018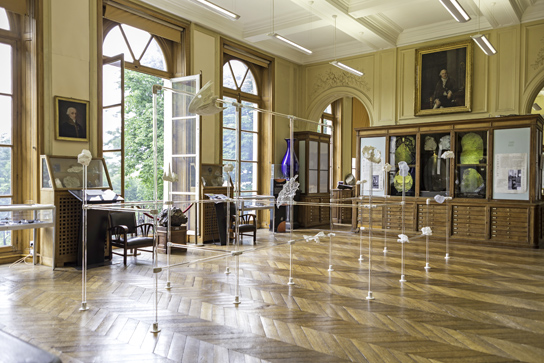 The "Boganium" art series by artist Alan Bogana, installed at the Mineralogy Museum of MINES ParisTech © Alan Bogana.
The exhibit "Boganium, Handwavium and others"
Swiss artist Alan Bogana presents an installation consisting of a series of works based on minerals from the Museum's prestigious collection.
Through this installation, specially designed for the Museum, he proposes a subjective and fictional system of organization that questions the notions of nature, humanity and the planet's finite resources, as well as the blurring of borders and contours: the notion of classification itself.
During a residency at the Cité des Arts in 2014-15, the artist digitized several minerals of the collection, which served as the raw material he used to create digital works. In this new phase of the project, the artist returns to materiality using 3D printing techniques. The crystalline forms are now diverted into a subsequent process of anthropization.
Inspired by various phenomena from the mineral world, such as fluid inclusions and crystal twinning, the artist weaves analogies between the utopia of digital technologies and the complexity of nature. Each element of the installation suggests a story through its form. The whole installation will interact with the enormous richness of shapes and colors of the mineral specimens of the Museum, which are at the origin of the artist's works themselves.
About the artist
Alan Bogana was born in 1979 in Switzerland. He's a multidisciplinary artist based in Geneva, Switzerland. His art practice involves sculpture, computer graphics, electronics, time-based media and holography, and his works are usually presented in the form of installations.

During the last years his research has focused on the exploration, real and fictional, of the behavior of light and its interactions with matter. He investigates this broad field of study through various means, such as computer graphics simulations of impossible phenomena or the manipulation of translucent, phosphorescent and holographic materials.

Alan Bogana completed a Fine Arts Diploma with honors at the Geneva University of Art and Design, a specialization in computer graphics and one in artistic research methodologies at the Zürich University of Art and Design. He exhibited in Europe, in the United States, in the Emirates and in South Africa. He has been artist in residence at the Swiss Institute in Rome, at the Cité Internationale des Arts in Paris, at the Sommerakademie Zentrum Paul Klee in Bern, in Cape Town with Pro Helvetia and in Zug with the Landis & Gyr Foundation.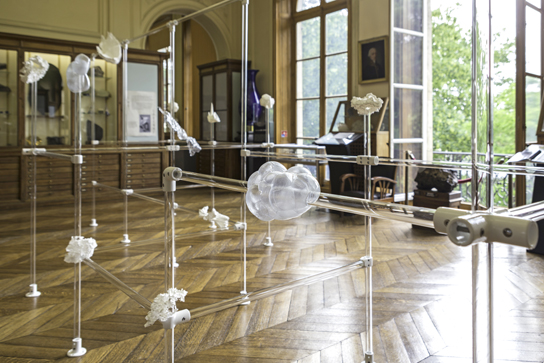 All the shapes of Alan Bogana's artwork are derived from scans of minerals from the Mineralogy Museum of MINES ParisTech. © Alan Bogana.

Education
2012-13 ZHDK, Zürich and HEAD, Geneva – CAS Program on artistic research methodologies
2004-09 Haute Ecole d'Art et Design, Geneva – HES HEA Diploma in Visual Arts with honours
2007 National College of Art and Design, Dublin, Ireland, exchange program
2006 Sheffield Hallam University, Sheffield, United Kingdom, exchange program

Solo shows
2018
Boganium, Handwavium et les autres, Mineralogy Museum MINES-ParisTech, Paris, FR (upcoming)
2017
Surely Many Very Early Men Just Sat Under Native Palms, La Rada, Locarno, CH
Gamma Pool Confabulations (in collaboration with Hunter Longe), Lokal-int, Bienne, CH
2016
Transmutations I, OnOff, Winterthur, CH
2015
The Hypothetical Cabinet of Phlogistronics, Kunsthaus Langenthal, Langenthal, CH
Consider that and measure, measure and receive the carmine, One Gee in Fog, Geneva, CH
2013
Tony and the Shape Junkies II, Hard Hat, Geneva, CH
Tony and the Shape Junkies, Espace Duplex, Geneva, CH
2012
Persistence of persistence — Orchids, prisms and lenses, Usine Kugler, Geneva, CH
2011
Opuntiarium — No Present, Blank Projects, Cape Town, ZA
2009
Morlockian mockups and Eloian prototypes, Galerie Ruine, Geneva, CH
To discover more about Alan Bogana's work, consider having a look at his website.
PHOTO GALLERY
Focus on the "cuprite", part of Alan Bogana's artpiece, realized from a 3D scan of a cuprite of the Mineralogy Museum MINES ParisTech. © Alan Bogana.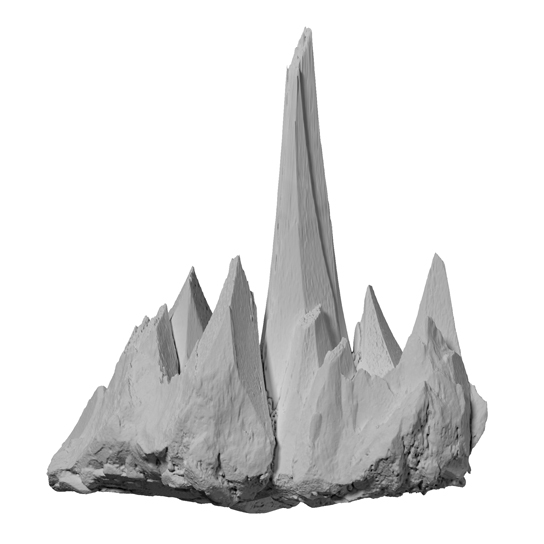 Computer graphics illustration. © Alan Bogana.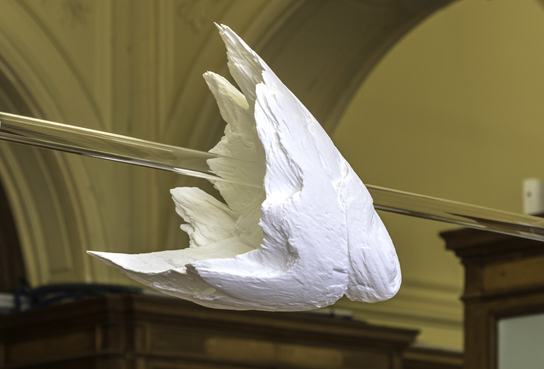 "Lava", part of Alan Bogana's artwork, realized from a 3D scan of a lava bomb from the Mineralogy Museum MINES ParisTech. © Alan Bogana.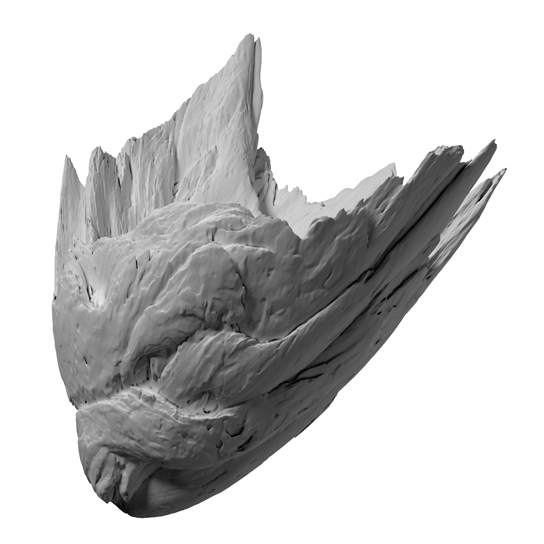 Illustration from a computer image of the lava bomb. © Alan Bogana.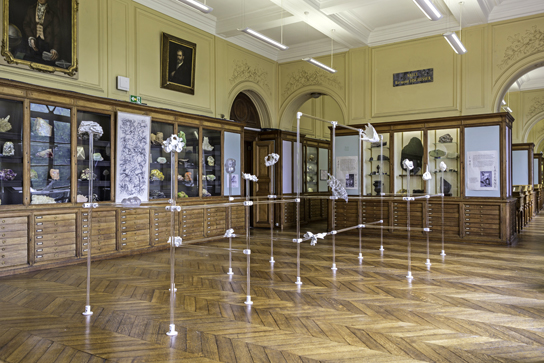 Alan Bogana's artpiece becomes part of the main gallery at the Mineralogy Museum of MINES ParisTech. © Alan Bogana.